Planimeter EX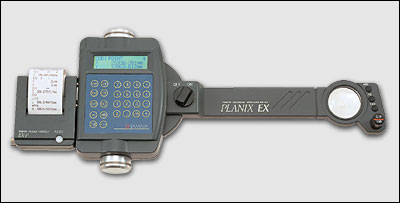 Tamaya has always been a pioneer in the field of surveying in Japan. Today Tamaya specialize in manufacturing, sales, and export of surveying instruments, drawing instruments, weather equipment, optical instruments, measuring instruments, and navigation instruments.
The PLANIX EX not only allows you to quickly and accurately measure areas,
but it also allows you to calculate lengths, coordinates, radii, and angles.

PLANIX EX-L is also available for a wider range of 450mm x 10m.
Key Features
Easy Measurement
The automatic closing function, which automatically finishes measurement when the trace point is returned to the starting point, makes measurement easier.
Wide Variety of Measurement Units
The PLANIX EX and EX-L are not only equipped with metric units (mm, cm, m, and km) but also provide the user with such units as in., ft., yd., mi., and acres, as well as other user-defined units.
Two Modes are Better than One
With the Point mode, the user can more easily and more quickly obtain areas and lengths of diagrams with straight lines. The Stream mode should be used for tracing curves on curved lines.